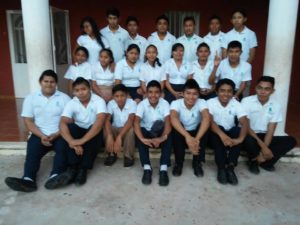 Students at the Mayan Children's Village (Villa Infantil Maya – VIM), above, line up for a quick photo before class as they kick off their 2016-2017 school year.  VIM currently has 21 students attending middle and high school.  The Merida Student House (Casa Estudiantil Merida – CEM) has 10 students attending high school and college.  Read more about these exceptional young men and women and our sponsorship program on our BECAS page.
Newsletters
Contact Us . . .
Oscar Dorantes, Director of Acción Ministries
ord (AT) accionministries (DOT) org
(011-52) 9991-276-549
Stacy Lynch, Work Team Coordinator
stacy (DOT) lynch (AT) charlottecountryday (DOT) org
seven zero four 408-0678
. . .
Rich Neidinger, Treasurer of Friends of Accion, Inc.
rineidinger (AT) davidson (DOT) edu
seven zero four 892-8499
. . .
Friends of Accion
c/o Covenant Presbyterian Church
1000 E. Morehead St.
Charlotte, NC 28204-2813
FriendsofAccion (AT) gmail (DOT) com