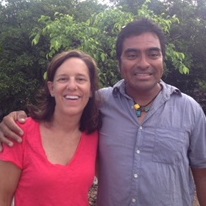 Check out our E-newsletter below, or download a printable PDF copy here.
---
Dear Friend,
We're so grateful for your interest in Accion Ministries and improving quality of life for the Mayan people of Mexico. If you have any year-end giving planned, please consider a donation to Friends of Accion Inc., a nonprofit 501(c)(3) organization, to continue improving lives in Mexico's Yucatan Peninsula. Merry Christmas and warm wishes for continued partnership in ministry next year!
Best regards,
The Board and Staff of Accion
Hola friends,

Another year has passed; it seems like they go by faster and faster. My son Andre says it is a sign we are getting old!

While we were in Cancun doing some grocery shopping with a mission group before heading to a Mayan village, I saw a t-shirt that had a Bible verse on the back:

"He has told you, O man, what is good; And what does the Lord require of you but to do justice, to love kindness and to walk humbly with your God?" (Micah 6:8)

It is one of my favorite verses in the Bible, and it resounds in my heart whenever I am feeling tired and weary. It reminds me that I need "to love kindness", in other words I need to do acts of mercy, to redeem.

In this crazy life that we all live in, with work and numerous responsibilities, we tend to forget how important it is to love mercy, to be kind, and to love one another. The verse in Micah is telling us what to do, but when it comes to acts of kindness, the Lord tells us we need to love it. We live in a very fast paced world, always trying to beat the clock, and many times we forget.

One afternoon we were all at the dinner table. Nowadays this seems almost like an impossible feat, but we were all together, the meal was ready, the table was set, and just as we were about to say grace my cell phone rang. I hesitated. I knew it meant I had to head out. As a church, we had been helping a Mayan friend whose wife was in the hospital. He needed to travel to Merida and back to his village so that his wife could receive treatment. And this was my friend calling for help.

I did not want to go! My family was together, the table was set, the meal was ready. Then the words came to my mind, "He has told you what is good; and what does the Lord require of you but to do justice, to love kindness…" those words rang in my mind and they brought tears to my eyes. So, I excused myself from the table, grabbed my keys and obeyed my Lord. I chose to practice mercy; I practiced love.

Many times we grow weary and tired, but we are called to love mercy and not just do it. We are called to love to do acts of kindness. For many years you too have chosen to "love mercy" by providing for the needs of many churches, villages, families, young men and young women. I pray as you are filled with His love, that you also never grow weary of loving kindness and mercy.

In His Grace,
Oscar R Dorantes
Work team members from Gettysburg (PA) Presbyterian Church stand side by side with the locals they're helping.
2017 Work Teams
26 volunteers from First Presbyterian Church in Hickory, NC went to Sahcabá Yucatán and built a big church roof.
15 youth and adult volunteers from Covenant Presbyterian Church in Charlotte, NC went to a Christian retreat camp in San Crisanto, Yucatan and built concrete floors, walls, and other various small projects around the camp.
18 volunteers from Westminster Presbyterian Church in Greensboro, NC went to San Pedro Noh Pat (near Merida) and built a roof and floor of a Sunday school classroom.
22 volunteers from Vienna Presbyterian Church in Vienna, VA went to Xbex, Yucatán and built a roof and floor of a Sunday school classroom.
17 volunteers from Gettysburg Presbyterian Church in Gettysburg, PA went to Tixmehuac , Yucatan and built two roofs on church buildings, along with an eyeglasses ministry.
15 volunteers from St. Luke's Presbyterian Church in Dunwoody, GA went to Valladolid, Yucatán and built roof and floor sections and a small patio.
5 volunteers from First Presbyterian Church in Charlotte, NC went to the Mayan Children's Village where they painted the kitchen and worked on windows.
Decades of Mission
by Rev. David Wright (Pastor of Gettysburg Presbyterian Church in Gettysburg, PA)

"I have been leading mission trips to the Yucatan Peninsula with Acción since the mid-1980's! Our trip this summer to Tixmehuac was typically fulfilling and productive.
We worked with our Mayan brothers and sisters to do two roofs on church buildings, to run a Vacation Bible School for children, to run a reading glasses clinic each day, and to worship and fellowship with the congregation.
Acción did a great job in matching us with this village, setting up lodging and kitchen space, as well as transportation. Our youth and adults who participated, about half of whom were first-timers, found it to be an enriching and deeply rewarding experience.
Thanks, Accion, for helping us be partners with you in ministry in the Yucatan!"
Student Spotlight:
Albert Tomás Tzek Collí
Albert is a 19 year old medical school student living at the Merida Student House (Casa Estudiantil Merida—CEM).
"When I was a child in my village of San Simon, I met doctors and marveled at their ability to heal. I made a promise to myself that I would become a doctor myself, someone who cares about the health of the whole person.
I knew this dream would require sacrifices. After middle school I had to go to school in the next town. I would wake up at 3AM and return home at 3PM . I suffered cold, heat and hunger with the only satisfaction that every day I would be in classes. I did not care what had to happen to achieve my goal. After high school I realized even more obstacles in my path.
As a child, I didn't consider how important it is to have support to achieve this dream. I was accepted at the University of Yucatan as a General Medicine major, but it was impossible to go without a place to live, eat and study. I heard about Acción Ministries, and I had the opportunity to meet its Director, Oscar R. Dorantes who invited me to join CEM.
This place is my second home, where I have shelter, food, and friends from across the Yucatan. The part I like the most is the delicious food! I have a huge debt to you, and the only way to settle my account is to become a doctor who brings the Yucatan towards a good future."
BECAS, Because You Care
In addition to our Work Teams ministry, Friends of Accion provides year-round access to education for students. Becas is the word for scholarships in Spanish, and it also stands for our scholarship program "Building Educational Chances through American Sponsors."
We believe education provides the best path out of poverty. However, schools are not accessible in rural areas and students are not offered transportation, books, or uniforms. As a result, many children from small villages cannot attend school. Acción's "homes for education" allow students to continue their education. Please consider a BECAS scholarship or gift for this ministry. You can give online or by check mailed to:
Friends of Accion
c/o Covenant Presbyterian Church
1000 E. Morehead St.
Charlotte, NC 28204-2813
If you're holiday shopping on-line, please click on this Amazon Smile link, and select Friends of Accion as your charity of choice. Then, just shop as usual and Amazon will donate 0.5% of your purchases to support our work in Mexico.
Board Member Spotlight:

Tim Kendrick

I've been participating in mission trips around the US and Mexico for
over 20 years. I have been on the board of Friends of Accion for two years but I've participated annual mission trips to the Yucatan since 2012. This includes intergenerational trips and the annual trip for high school seniors from Covenant Presbyterian Church in Charlotte, NC. We do construction work, children's activities and women's crafts.
I'm a Relationship Manager for Ernst & Young, a firm that strongly supports mission activities. I grew up in High Point, NC, went to NC State University and moved to Charlotte, NC in 1982. I married my wife, Cathy, and we have two sons, Lyle (27) and Andy (24) who were raised at Covenant. All 4 of us have been on multiple mission trips with Acción Ministries to different Mayan villages.
At Covenant, I've been asked to share why I have a passion for Mission (and specifically Acción), and after some reflection I realize it's for a whole lot of reasons. You get to know other church members so much better. You get to see how ¾ of the world really lives, how they survive and enjoy life. The people in the communities that we visit become part of your life for a week and beyond.
The time with Children's Activities and Women's Crafts in the community enables incredible relationships. We get to reconnect with the staff members from Acción Ministries, who are now lifelong friends. And last but not least, it's a way to really get away from the stress of "work".
God at Work
by Martha Eubank (member of FPC in Charlotte, NC)
First Presbyterian Church, Charlotte visited Villa Infantil Maya (photo below) November 5-10, 2017 with four members of the congregation and Louise Ripple from Covenant Presbyterian Church. The group – Elise Barksdale (visiting Mexico for her 30th time!), Martha Eubank, Barb Neidinger, Rev. Chuck Williamson and Louise Ripple – painted the kitchen in the back of the facility and worked on windows.
Rev. Oscar Dorantes worked alongside of us as well as many of the VIM students, and he and Roger report that if we are able to secure funding for a few light fixtures and the remaining windows and doors, the dining hall could be operational in 2018! November is a beautiful time to be in the Yucatan. We were surrounded by VIM students excited about their studies and settling into a new school year while adjusting to having more girls than boys for the first time ever. We were able to tour both schools in Ignacio Zaragoza and received gracious thanks from the principal of the high school, who reflected on the positive work VIM was accomplishing in the lives of the students and particularly noting Isaac and his influence on the students and the school.
During our devotion time, team member Barb Neidinger reflected on the fact that while we are all busy in our hometowns and see God working in our lives, He is working just as hard in VIM's corner of the world. Five days with the people of Acción Ministries and the students of VIM remind us of this in a very unique way. We were grateful for this time to slow down, notice God and enjoy this special place.
The group plans to return to VIM the same time next year, November 4-9, 2018 and would welcome additional team members. If you are interested, please contact Martha (meubank@bellsouth.net).
Two VIM girls, Keyla and Rosa, showing cards they made, and other youth at VIM working on cards for their families.
Empowering Girls through Education
by Barb Neidinger (member of FPC in Charlotte, NC)
For the first time since Villa Infantil Maya (VIM) opened in 2006, VIM has a full group of girls for the school year 2017-2018 (see photo above). In fact, there are more girls than boys for the first time ever! This reflects on the excellent reputation and trust that parents in the Mayan community have in VIM, which provides housing, physical and spiritual nourishment for middle school and high school youth, so that they can attend the public schools nearby. It also means that the word has traveled across the Yucatan peninsula!

The youth come from as far away as Holbox, an island community off the northern coast of the Yucatan. Every Monday morning, these youth travel one hour by boat and then one hour by land, to reach school by 7 am! There are then two school times – some of the youth go to school from 7 am to 2 pm; and another group goes from 2 pm to 9 pm. On our recent mission trip to VIM in November, 2017, we saw them studying and diligently doing their homework. They are very dedicated and serious about their studies, as they realize what a gift they have been given, to live at VIM and go to school.

Each morning, the girls are all neatly dressed in their school uniforms (white blouses, navy skirts), and hair beautifully brushed and styled! This is a bit of a challenge as VIM still needs to fully build out the girls' bathroom. Imagine 5 girls at a time elbow-to-elbow in front of 2 small bathroom mirrors, getting ready! But no complaining; VIM may be the nicest place any of them have ever lived. A returning girl, Luz wrote:

"My first impresión at VIM was very significative. As I was
driven to VIM, when the truck entered the way road to
VIM-house I thought we were lost because when one is
leaving the last village (Ideal) before turning at entrance left
to VIM there is no signal or guidelines to be a house deep in
the way. That was the surprise, there was a beautiful nice
house behind the trees."

The returning girls, Luz, Rosa, Nallely (high schoolers) and Prisila (middle school) who is the caretakers' Isaac and Juanita Ricardez' daughter, set the tone for what is expected at VIM, from chores and homework, to relaxation and devotions. The new girls, Genessis, Ruby, Keyla, Linda, Lesli, Veronica, Danna, Vanessa, and Erica (all high schoolers), are wide-eyed and excited to be at VIM. You see a picture of Keyla and Ruby holding cards they have made (from U.S.-supplied materials) for their families! We ask you to join with us and support one of these girls, as they work hard to earn a high school degree. They will write to you, just as each of them wrote to each member of our mission trip – it was so special! One example is Nallely, who wants to go to college and study psychology; her philosophy of life is "Always follow your heart, but carry your brain!"
New Short Film about Accion
by Stacy Lynch, Acción Ministries Volunteer
A year ago I read an article about Silent Images, a nonprofit that creates professional videos for other nonprofits. This was just what Friends of Acción was looking for—someone to showcase the wonderful things God has done for Mayan youth through Acción Ministries. I looked at their amazing videos and got in touch about filming a short video for Accion.
Eight months later I traveled to Merida with a talented young videographer, Derrick Bills (photo above). Derrick, my traveling partner for 4 days, is a committed Christian, talented artist, and stellar human being. First stop was Casa Estudiante Merida. There we filmed two successful college graduates who were grateful for the opportunity to live at CEM while pursuing their degrees. We then traveled to Villa Infantil Maya to get footage of the high school students living there. We carefully timed our visit during graduation. An added bonus was that there was a work team living at VIM that week. The work of Silent Images is a true blessing!
Please go to www.friendsofaccion.org or click on the thumbnail image below to view the video.

New Work Team Coordinator
2018 will usher in a new era for Acción work teams. After over a decade, Abby Gwaltney is stepping down from this role and welcoming Stacy Lynch (photo left with Accion staffer, Oveth Hernandez) as the next Work Team Coordinator.
Abby says, "I'm so grateful to all of the inspirational volunteers I've worked with over the years. I'm leaving you in loving and capable hands with Stacy, and I won't be a stranger to Acción."
In addition to her daytime job as a teacher, Stacy has been a long-time Acción supporter and volunteer. Her favorite part of the Acción mission trip experience is the children. Stacy said, "Seeing them excel in school is the highlight for me."
If you are interested in scheduling a trip or finding out more about Acción work team trips, please reach out to Stacy at: 704-408-0678 or stacy.lynch@charlottecountryday.org
Copyright © 2017 Friends of Accion, Inc., All rights reserved.
Our mailing address is:
Friends of Accion
c/o Covenant Presbyterian Church
1000 E. Morehead St.
Charlotte, NC 28204-2813

<![endif]-->
Newsletters
Contact Us . . .
Oscar Dorantes, Director of Acción Ministries
ord (AT) accionministries (DOT) org
(011-52) 9991-276-549
Stacy Lynch, Work Team Coordinator
stacy (DOT) lynch (AT) charlottecountryday (DOT) org
seven zero four 408-0678
. . .
Rich Neidinger, Treasurer of Friends of Accion, Inc.
rineidinger (AT) davidson (DOT) edu
seven zero four 892-8499
. . .
Friends of Accion
c/o Covenant Presbyterian Church
1000 E. Morehead St.
Charlotte, NC 28204-2813
FriendsofAccion (AT) gmail (DOT) com