Work Teams
"Acción is happy to once again host work teams starting in 2022!  Our COVID-19 Special Protocols are the last page (Appendix I) of our Team Leader's Handbook, which has extensive details on everything about work teams."
---
If you are a current Work Team leader you can access our Team Information Manager website to update information about your upcoming trip.
What are Work Teams?

Work Teams are groups of 10-60 Americans from churches, schools, or other groups.  They come to Mexico for about a week and partner with Acción to build churches or homes for families in needy villages. Acción hosted its first Work Team in 1981, and Work Teams still remain our most visible program and tangible bond in the American-Mexican partnership.

Work Teams live in Mayan families' homes (that the families graciously vacate) and even sleep in hammocks for the full Yucatecan experience.

Construction in the Yucatan is done with concrete, concrete, and more concrete.  Work Teams usually do construction in the mornings when it's cooler and then host an afternoon "Vacation Bible School" for the children in the village.  The work is hard, the weather is hot, but Americans often report receiving more of a blessing than they give, just by working alongside and getting to know the Mayan people they are serving.
Cost
Acción charges a per person fee for a Work Team mission trip.  This money is due 2 months before the trip date.  It covers:
All ground transportation in Mexico
Construction materials
One hammock per person (which is yours to take home)
Housing hosts (the Mayan families who give up their homes for Work Teams to stay in)
Acción staff with you on your trip
Set-up site visits to prepare for your stay in the village (done by Accion staff before you arrive)
The fee does NOT cover your airfare, food (you will have access to a kitchen and cook your own meals in the village), or any R&R activities such as hotels and entrance fees to Mayan ruins.
Find Out More
Acción has an extensive Team Leader's Handbook that can answer many of your questions about leading a Work Team.  If you would like additional information or are interested in scheduling a mission trip,  Stacy Lynch, Acción's Work Team Coordinator, would love to speak with you!  (Her contact information is at the bottom of this page.)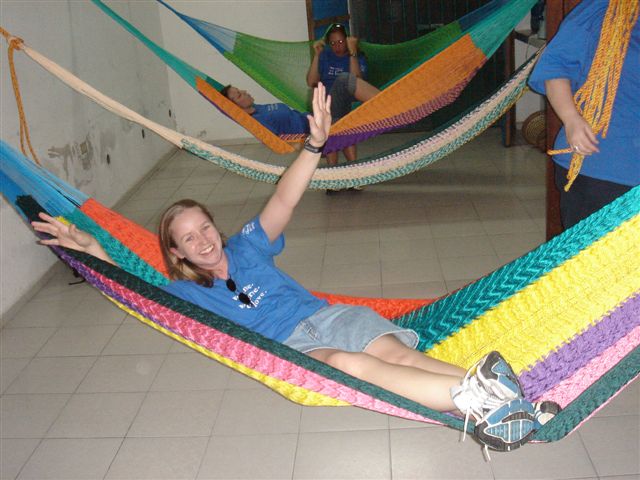 Newsletters
Contact Us . . .
Oscar Dorantes, Director of Acción Ministries
ord (AT) accionministries (DOT) org
(011-52) 9991-276-549
Stacy Lynch, Work Team Coordinator
stacy (DOT) lynch (AT) charlottecountryday (DOT) org
seven zero four 408-0678
. . .
Rich Neidinger, Treasurer of Friends of Accion, Inc.
rineidinger (AT) davidson (DOT) edu
seven zero four 892-8499
. . .
Friends of Accion
c/o Covenant Presbyterian Church
1000 E. Morehead St.
Charlotte, NC 28204-2813
FriendsofAccion (AT) gmail (DOT) com